summer paradise.
Tuesday, August 05, 2014
hello, I'm back! I know, I know, I'm a terrible person for not being consistent. I've found that I'm not as keen as I used to be on updating and writing about the ongoing of my life. I've only blogged 7 times since the beginning of this year. ><
Its not that nothing much have been happening, in fact its been quite a busy hectic time from the get-go itself. Wow, now that I'm reflecting on it, I've really not have had the time to fully rest and just take time out for myself. From January with the internship to rushing for my internship report and getting a thesis supervisor to finishing my last semester of my degree and everything else in between, there really hasn't been a time to just breathe. Its no wonder that I feel so worn out now that I actually have the time to just let go for a while. Even that is an illusion really, I'm just stealing time when I don't even have any to spare. But I know that if I don't find rest, I won't be able to do what I have to do and it'll just be a repeat performance of the year before Korea. Okay, enough venting. Lets move on to some stuff that I've been up to.
There was a Singapore trip. Yes, again. I went with my mum and Jill before my finals started actually. YOLO right. There was also a wedding to attend, so we thought might as well make it a family trip as Jill has been wanting to go to Universal Studios Singapore.
Jill got her USS, I got my Gardens by the Bay. :D
Finally went to Gardens by the Bay, weather was quite warm but it did not deter me! The whole place is beautiful, it reminded me of Korea and I thought to myself that if I lived in Singapore, I would visit every weekend. We did not, however go into the conservatories as they were quite pricey and we did not plan for them in our budget. I would really like to go in one day though.
The wedding I attended was for a really old friend who I've known since I was 12 or 13. I am very happy for her and her husband, Joseph and I wish them all the love and happiness a marriage can bring. Despite having to make the journey all the way to Singapore, I was really glad to be able to be a part of it.
Then, we came home and I had to prepare for my finals. In the middle of that, my grandma's condition got really bad and my aunt and her family flew down from UK because we weren't expecting her to last long. This pic is with my aunt and my cousin, Dominic.
And erm, yea, she didn't. On 23rd July, Popo passed away. Doctor said she went without pain and I'm glad for that. Despite popo being in KL, I never really took time out to see her more often but I did manage to tell her that I love her, to tell her that she is surrounded by people who will remember her.
I went back to Ipoh for Raya and met up with the girls. For the first time in a long while, we had the most complete of us, which was 5 out of 8. Lol. I missed them, missed the ease and comfort that comes from years of friendship. I'm amazed by how we've changed and how we've also remained the same. #bff (: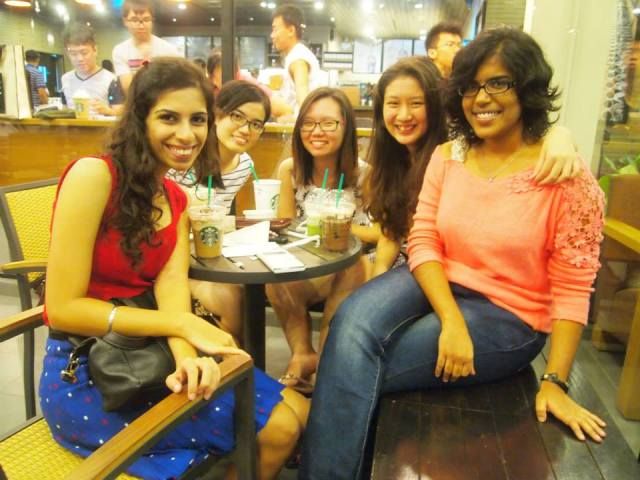 That's been pretty much what's been going on. Like I said, there's really not been much time to just relax. I feel so drained, an introvert thing I guess because I feel like I've been surrounded by so many people lately. I don't mean it as a bad thing but I could use some time away which is what I'm doing now. And I know that I have to go on with life and all its requirements. So you know, just bounce. ^^
Tell me how to get back to
Back to summer paradise with you
And I'll be there in a heartbeat