할말 있어요.
Wednesday, March 26, 2014
Thinking of You Fanmeeting
Date: 16th March 2014
Time: 6.30pm
Venue: Surf Beach, Sunway Lagoon
even if I were to neglect my blog and writing, I couldn't possibly not write a fan account for my favorite, most-loved boys. this is Big Bang, even the name speaks for itself. unfortunately, out of the 5 members, only three were involved in this fanmeeting, GD, Taeyang and Seungri. my biased fangirling is happy and satisfied enough because GD! #mybaby #theloveofmylife! :D
Jill, Daniel and I arrived about 6-ish as we are pretty familiar with the scene already. seeing that we bought the cheapest tickets which meant standing at the most back, there was no need to suffer through a long queue and we were right. we just breezed through and I was very surprised that our zone wasn't packed full. one way to look at it is how much and how willing the Malaysian VIPs are in spending for the boys. most of them were packed in the front where the ticket prices ranged from RM400 - RM700(?). although I did assume our zone to be as packed as it was the cheapest, I guess this could be due to the timing, among several other factors. either way, I was still glad that I have the space to jump and go crazy without hands and placards blocking my view and the crowd squeezing the breath out of me.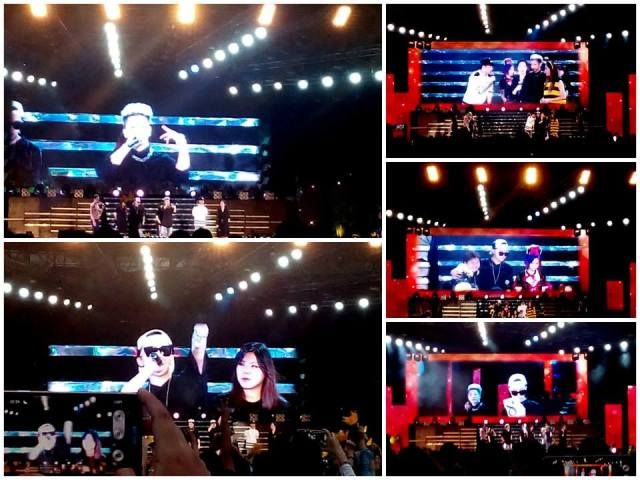 the fanmeeting started pretty on time, on time meaning half an hour to one hour after the time written on the ticket. the MC was entertaining and the games they did at the beginning was amusing, adorable and makes me wish I jumped the girl who had the ticket number and took her place on stage instead. GD was so so so so endearing; his shy-ish, boyish, captivating smile drove me crazy, the way he was giving fan service, hugging the girl and all that (URGH!), I was so envious. I don't understand how that girl is not swooning and losing balance from all that proximity with him. I think I would have had a heart attack. haha.
Taeyang was being quite cool. before I go on further, let me explain what happened. in short, the boys picked three girls and they had to dress each girl according to a theme. GD got hip-hop (of course!), Taeyang got sexy (LOL) and Seungri got cute. GD even lend his shades to his girl, Taeyang dressed his girl in a maid outfit, Seungri's girl was in a bee costume. then, they took a group picture. in the midst of all that, every girl's romantic fantasies came true. GD was being all skinship and attentive to his girl, Taeyang was tying the ribbon on his girl's dress, it was Seungri's girl's birthday which meant she got a forced hug from him. all we needed to do was pretend that one of those girls (pick your man) was us and sigh from it. after the whole jealousy-inducing event occurred, the performances started.

Seungri was the first to go. Poor boy had no voice at all, he was barely croaking his words out which meant that he was lip-synching his songs. I overlooked that because he was really trying very hard despite his voice. I think he made up for his voice by really dancing his heart out. I was ecstatic when he did 할말 있어요 (Gotta Talk To You) because of the hustlin' hustlin' part. it has got to be the best part! of course, every performance by all of them are good and crazy but somehow, I get a tiny bit more excited for Seungri's stage. I'm not entirely sure why (especially since my bias is GD) but watching Seungri dance and sing and perform is addictive. ㅋㅋㅋ
then, it was Taeyang's stage and it was so good, so mind-blowing. he did 나만 바라봐 (Look Only At Me) and my heart melted into goo. to see how much he has improved, how far he has come, how confident and suave he became is just wonderful. he started off good, everybody in Big Bang did but you can really see that they are constantly moving forward, not just in their music but also themselves. i've never been more proud to be a VIP. the rain really started pouring during Taeyang's stage but I had no care of it at all. in fact, I think the rain added to the excitement, to the rush and craze of being in that concert and watching them.
finally, it was GD's turn. if I didn't know what love was, I knew it when I see him perform, see him sing and dance and be free on that stage. I know what romantic love is, I know how it feels but when I see GD, I understand why a person would become a fan, would profess undying love and loyalty, would even go over and beyond for the boys. Maybe I'm a bit more rational and less financially secure to go fan crazy but I totally get how they (the fans) feel. the love I feel is so big, so selfless (maybe?), so overwhelming. there was a point where I just stopped everything I was doing and look at him and a part of me wished that I could stay in that state forever, that state of awe and the recognition of love and happiness. I know you might think I'm exaggerating and perhaps slightly out of my mind but I hope that you would find something that makes you feel like that because it makes living worthwhile. heeh.
seems like I've written my fair share. I've been going through a range of emotions lately which might explain all those feels above.
my voice was gone by the end of it, I was drenched through but my heart was soaring. my RM203 was so worth it; we weren't as far back as we expected, in fact we could see the stage quite clearly, I was really enjoying myself without worrying about the rain or the crowd or capturing every moment of the performances and I think it was just a much needed break to go all out, to scream, to be excited and happy to my heart's content.
yes, I definitely had a great, wow fantastic baby time.
Wanna get high?
내 짝이면 돼.
Labels: :D, awesomestuffrighthere, fan account, goodtimes, kpop, kpop:BigBang, kpop:GD